For whatever reason, my practice of daily gratitude has really been on the decline for a while now. I still keep
my book
open on the kitchen counter 24/7, but so often I find myself scribbling down a few highlights each morning from the day before, rather than pausing throughout the day to note the gifts I receive. Is it any wonder if I am struggling to see? Better late than never, definitely, but I need to get back into the practice of opening my eyes and counting all day long.
This past week I've been thanking God for...
5731. bushy-tailed squirrels flying up and down trees
5732. husband fixing our furnace for just the cost of parts
5733. forcing me to do hard things I don't enjoy
5734. Elijah scoring a goal at his last soccer game
5735. soccer ending = getting our lives back
5736. his awesome coaches who sacrificed more than we did this season
5737. grace to apologize to Elijah
5738. his quick forgiveness
5739. time to sit and read to the boys in the midst of a chaotic day
5740. an opportunity to bless friends with a meal I know they like
5741. a text from my friend saying her two-year-old ate four bowls of the soup and raved about it :)
5742. a visit from Steve's younger brother and his girlfriend
5743. Jude's teacher's hard work in reinforcing the kids' potty learning
5744. Elijah displaying a servant heart at school
5745. POOP IN THE POTTY!!!!!
5746. frozen yogurt to celebrate the momentous occasion
5747. lunch at
Mafiaoza's
5748. hiking at
Radnor Lake
5749. grace to preach truth to myself, fight against resentment
5750. the boys' love for music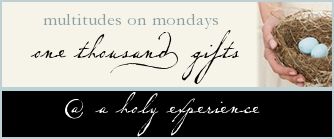 [
This post is part of the series "31 Days of Seeing Jesus"--click here for a list of all posts.
]