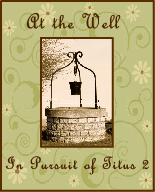 Recently I ran across a new website that has me intrigued. It's called
At the Well...In Pursuit of Titus 2
, and it's meant to be a gathering place where women can encourage, be encouraged, and grow in godliness.
The author
explains the "well" concept this way
:
"Can you see them? Right there… At the Well. The women from the town are all gathered together in the midst of their daily work. Can you hear them?

Whispering
Talking
Laughing
Crying
Comforting
Sharing
Listening
Singing
Words of advice exchanging
Old hands showing the way to the young
Feeding their souls
Nourishing their spirits
Gathered together… At the Well.

Come back with me now to the present. Our communities have grown and we are spread out. Technology has discounted the need for a well to draw our water. However, it is still possible for us to meet At the Well, in true Titus 2 form. It has just now become a virtual well."
Online "community" is no substitute for real-life community, for meeting with others face-to-face and letting them see the real you. But I still find much value in women coming together online to challenge and build each other up, so I'm interested to see how this site develops.
If you make it over there by Monday afternoon, you can
enter to win some great prizes
, too!